After months of crochet on the as-yet-still-unfinished
ripple blanket
, I've picked up the knitting needles again to work on this
Calorimetry
as a birthday pressie for a friend. The yarn is Wendy Fusion which I've used before in the red and orange colourway. This time
Clare
had spare balls of the purple which she kindly distributed amongst the Foyles knitters.
The Calorimetry pattern is worked in short rows which I've realised is one of my favourite knitting techniques - there's something rather magical, I think, in the way straight lines can become three dimensional, just by leaving behind stitches. One of the most satisfying projects I've knitted was the
A Capella
cape, which is all short rows.
[photo: Leo Bleicher, via Knitty]
Although the picture of the project didn't sing for me, I saw it knitted up and it's wonderful. My Mum is devoted to her purple one and wears it most days during the winter.
I have my eyes on another promising short row project, the Lizard Ridge Throw, also on Knitty.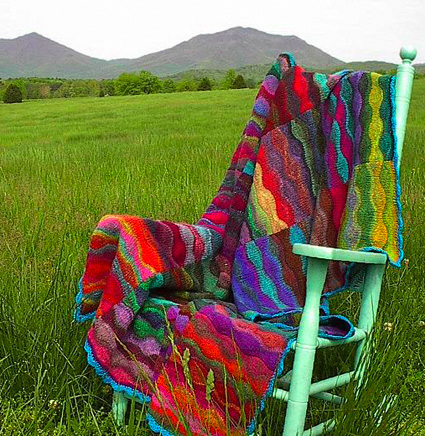 [photo: Laura Aylor, via Knitty]
Its so gorgeous I can hardly contain myself! Sadly I have exactly one ball of Kureyon in my possession and am without the financial means to acquire the enormous pile the project requires. Oh well, I can always dream!